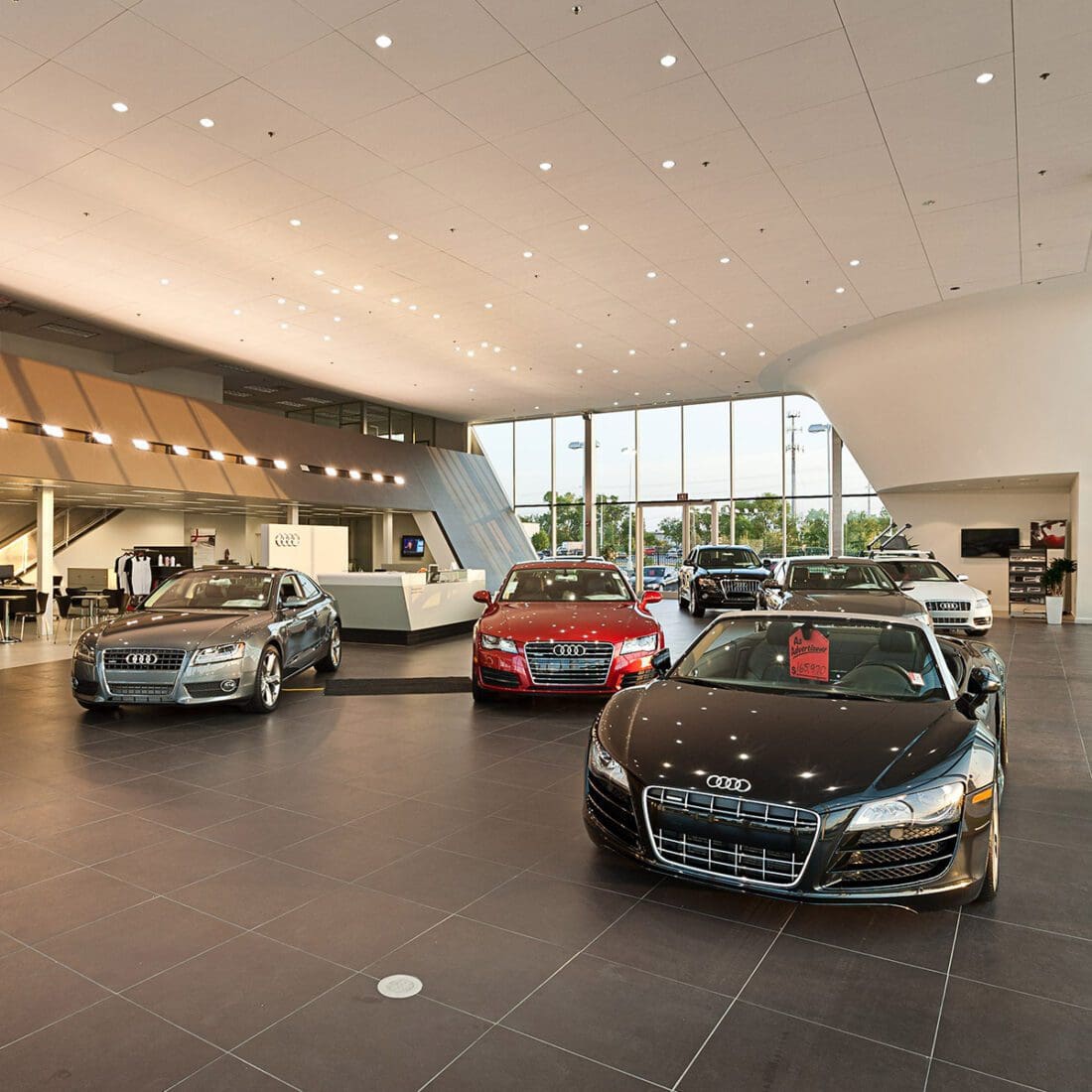 More Than Just A Big Box – Auto Industry Customizes and Beautifies Large-Scale Commercial Construction
Commercial construction is a pretty broad term encompassing many different types and sizes of buildings. From skyscrapers to manufacturing facilities to strip malls and events centers, there are numerous sub-categories and specializations that fall under the commercial construction umbrella. Under this umbrella, as a general rule, big buildings tend to be boxy and if we can be honest…a little boring. However, there are building owners out there that are not content with a box, and so they're thinking outside of it, and in the process pushing the entire industry forward.
Auto dealers, in particular, are known for taking the pre-engineered metal buildings that provide the basic footprint for most large-scale constructions and making them architecturally complex, modern and beautiful.
For this reason, auto dealerships are one of our absolute favorite types of clients, and luckily, we've had plenty of opportunity. Over the years, we've built several new dealerships for the Don Thornton Auto Group – one of the most widely-recognized and well-respected luxury auto dealers in the state of Oklahoma. Our relationship with the Thornton family is one of which we're extremely proud, because it's such a great example of our customer commitment. This contractor/customer journey began with one dealership and we're now at three completed dealerships—and counting. Each project combines value-conscious pre-engineered metal buildings with custom architecture in a way that delivers on aesthetic and value and sets the bar for other dealerships nationwide.

Atrium, Internet café, workout room, children's play area – Lexus of Tulsa wrote the book on what a next-gen luxury auto dealership can be, and Fleming Construction Group made their vision a reality. The 90K square foot design/build project combined concrete and steel construction and highly efficient MR-24 Standing Seam Roofing with custom features including Mediterranean porcelain tile, ornamental wrought iron railings, custom woodwork and overhead skylights. The facility is both elegant and comfortable by design, to reflect those same qualities found in the Lexus brand.
Get More Info About FCG's Lexus of Tulsa Construction:
Lexus of Tulsa

Land Rover of Tulsa set a new bar as the first ever LEED certified Land Rover dealership and first ever LEED auto dealership in Oklahoma. From landscaping that only uses native plants and materials to building construction starting with a LEED certified pre-engineered metal building, the dealership earned the certification by designing a building that is both highly efficient and was constructed using sustainable methods.
LEED (Leadership in Energy and Environmental Design) certifications – which can range from silver to platinum – is an internationally recognized rating system that provides recognition for energy efficient, sustainably constructed buildings. The certification works on a points system in which a building earns credits according to its implementation of factors including energy efficiency in design and operations, sustainability in construction methods and materials, and indoor environmental quality including air, thermal comfort and acoustics.
Land Rover of Tulsa is 16,000 square foot facility including a rustic-urban designed showroom and 7,500 square foot parts and service area.
Find Out More About This Exciting Project Here:
Land Rover of Tulsa

Audi of Tulsa is one of our finest examples of the exciting customizations that are possible with today's pre-engineered metal buildings. This 14,000 square foot dealership and service/parts facility features stunning architectural elements that put it in a class all its own. With nearly 200 feet of 20' high curtain wall featuring both curved and sharp angles; extensive use of glass for a modern, bright atmosphere; and a 60-degree curved inside wall that is reminiscent of a European test track, the building is unlike any other.
Download the Audi of Tulsa Fact Sheet Here:
Audi of Tulsa
FCG – An Oklahoma Construction Mainstay Since 1943
As one of the oldest commercial construction firms in Oklahoma, we've built our expertise through the development and execution of highly complex projects in industries from retail to manufacturing and beyond. Our work in the auto industry provides some of the most exciting examples of what is possible in terms of LEED certification and the customization of projects that start with a pre-engineered metal building.
The projects featured here are examples of how our 70+ years in the commercial construction industry have helped us master large-scale construction methods, organization tactics, modern technology implementation and customer service.
FCG's ability to deliver for our clients in terms of value, quality, and innovation sets us apart in the commercial construction industry in Oklahoma and beyond. Our proof is in the buildings we produce and the repeat business we enjoy again and again.
Are you an auto dealer looking to find a partner for new construction?
Call us today:
(405) 285-3851