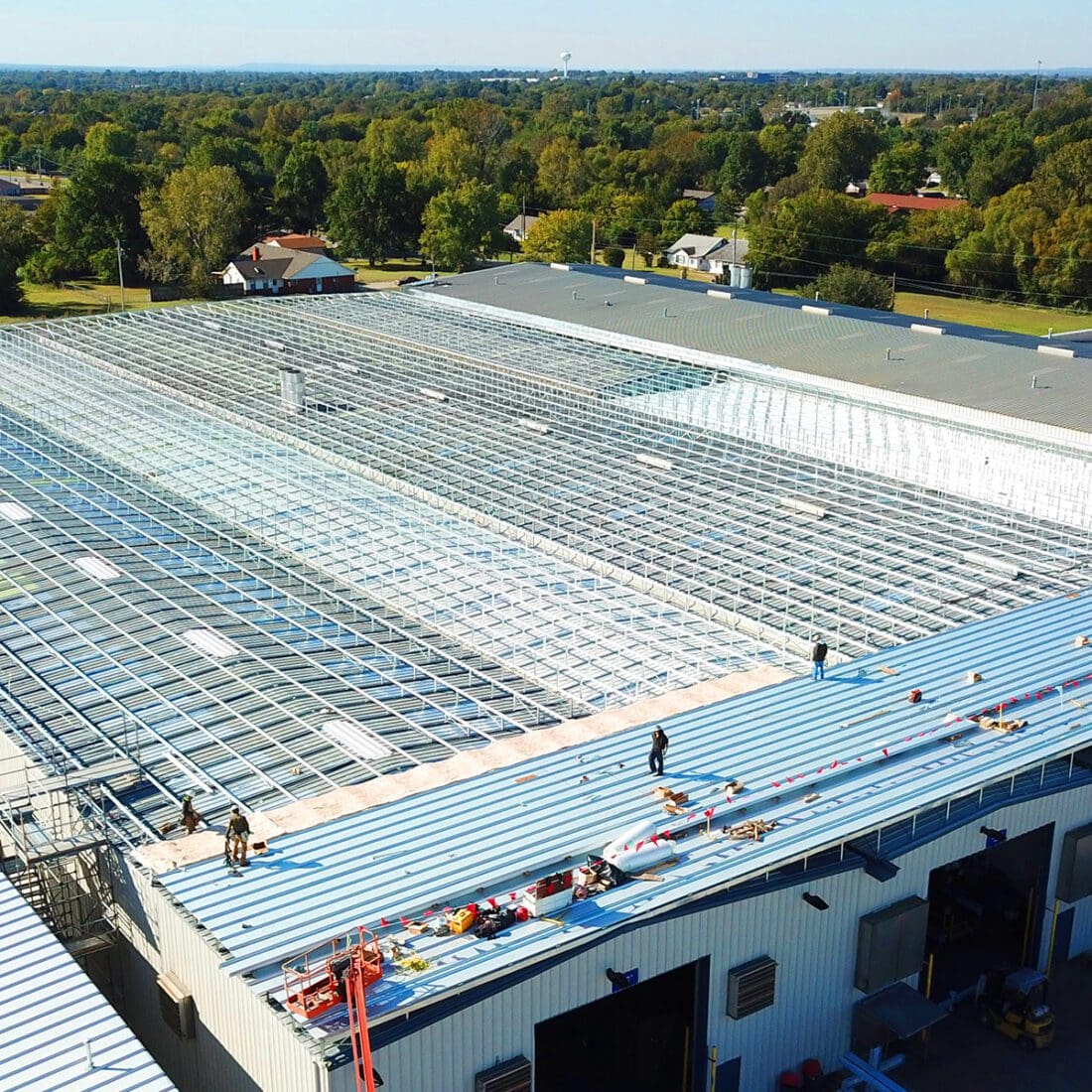 Protecting Profit with Energy Efficient Buildings
As one of the oldest commercial building contractors in Oklahoma, our experience has taught us that retrofits prioritizing energy efficiency deliver lower total cost of ownership over time and systems that are better equipped to handle changes in technology and standards. Efficiency projects not only help with lowering long-term maintenance costs, the out-of-pocket for such projects can often be at least partially covered by rebates and tax incentives, with overall ROI payback taking just a few years. Energy efficient buildings can also deliver improved occupant safety and comfort.

Energy Efficient Buildings Have Efficient LED Lighting
One of the first retrofits we recommend for large buildings is to upgrade the lighting system to LED. According to Energy.gov, Energy-Star-rated LED lighting upgrades, "use at least 75% less energy, and last 25 times longer, than incandescent lighting." In fact, LED represents the biggest opportunity for energy savings in the US, with projections stating that by 2027, widespread LED use can result in approximately $30 billion in lighting-associated energy cost savings.
Because LED lights last so much longer than incandescent options, the maintenance costs associated with lighting upkeep go down exponentially. Additionally, for commercial spaces with high ceilings and fixtures located over workers and in hard to reach areas, reduced maintenance improves the safety of both maintenance teams and building occupants.
Our LED lighting upgrades are designed to not only replace outdated fixtures but also to review the lighting plan to be sure that light positioning is ideal. As buildings change hands and usage evolves, the original lighting configurations may not still be appropriate. Modifying fixture placement where necessary helps with occupant comfort and visibility, which also contributes to workplace safety.

Roofing Retrofits Can Improve the Functionality and Efficiency of the Entire Building
One could argue that the entire health of a building begins and ends with the roof. Whether it's protecting the building envelope from water damage or ensuring that the assets inside a building are shielded from the elements, the roof has more direct impact on the general health of a building than any other system. Because of this, it definitely pays to invest in a high-quality roof, which, with proper care can last up to forty years or longer. Proper roof selection has the power to save tens of thousands in repair and re-roof costs over time, depending on the size of the building.
In addition, modern roofing that is designed to reflect the sun's heat can contribute to overall energy efficiency by limiting the amount of heat or cold transferred into a building and by keeping the inside temperature stable. The right roofing system (we recommend Butler MR-24 Standing Seam Metal Roofing Systems) combined with regular maintenance can help lower the total cost of ownership of an entire building by thousands.
Fleming Construction Group's Retrofit arm, 8760, provides re-roof and maintenance services for clients throughout Oklahoma and beyond. We specialize in maintaining all types of commercial roofs and are experts at correcting roofing problems that can result in a cascade of expensive building repairs.
Get More Info About Our Retrofit and Maintenance Services Here:
Fleming 8760
Fleming 8760 Roofing Retrofit Downloadable One Sheet
Fleming 8760 – Building Energy Efficiency and Maintenance Experts
From lighting and roofing to automation and operations, the team at Fleming 8760 are experts in maintaining and improving every aspect of a building. We help facilities and maintenance teams identify and prioritize retrofits and upgrades, while helping building executives develop cash flow positive finance strategies that take the most advantage of rebates and tax incentives.
Let us help you identify the energy efficiency and maintenance projects that will deliver the highest return on investment. Call us today:
(405) 285-3851